ALL ABOUT NAUTICAL SCIENCE
---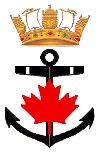 What is Nautical Science?
Nautical Science deals with the art and science of ship operations (deck side). It is an area of study where you learn to navigate and operate ships and boats in the merchant marine. You also learn to handle (load and discharge) many different types of cargo (crude oil, wheat, containers, liquid natural gas etc.) that the ships may carry. The merchant marine's main purpose, of course, is to transport the world's maritime commerce but we also transport passengers (on ferries and cruises), conduct surveys, look for shipwrecks, lay telephone cables, and perform many other interesting maritime operations.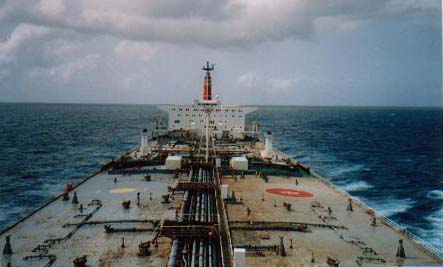 The s.s. LIMA, a ULCC at sea off the African coast (looking aft).
The goal of most people in Nautical Science is to become a ship's CAPTAIN, and command his (or her) own ship. In Canada, this takes many years of training at sea and ashore in order to gain the proper qualifications to hold a Master Mariner's licence (or ON1/CN1 if working on the Great Lakes). For smaller vessels such as ferries and tugs the qualifications to become a Captain take a lot less time but still require experience.
Naturally, you will have to start at the bottom and work your way up to Captain. The starting level is either as ordinary seaman or officer cadet. A cadet starts a very structured program and has a lot more to learn over a shorter period of time then an ordinary seaman does, but it is the fastest way to becoming an officer (and eventually Captain). Once a cadet has completed their program of study (or the seaman has gained enough experience and courses) they can attempt their first licence. This is called a Watchkeeping Mate, Ship (WKMS) ticket in Canada and qualifies the holder as a Second Officer home trade or a Third Officer foreign going (outside Canada). The higher licence levels for foreign going are the First Mate, Intermediate Voyage (FMIV) for Second Officer, then Master Intermediate Voyage (CIV) for Chief Officer, and finally Master Mariner (which is as high as you can go) for Captain. A person working solely in Canada may go another route which covers only coastal navigation and navigation on inland waters (ie. the Great Lakes). These licences are known as Local Voyage licences. However, I recommend following the foreign going route as it will give you the highest levels of qualification and as a result greater employment options.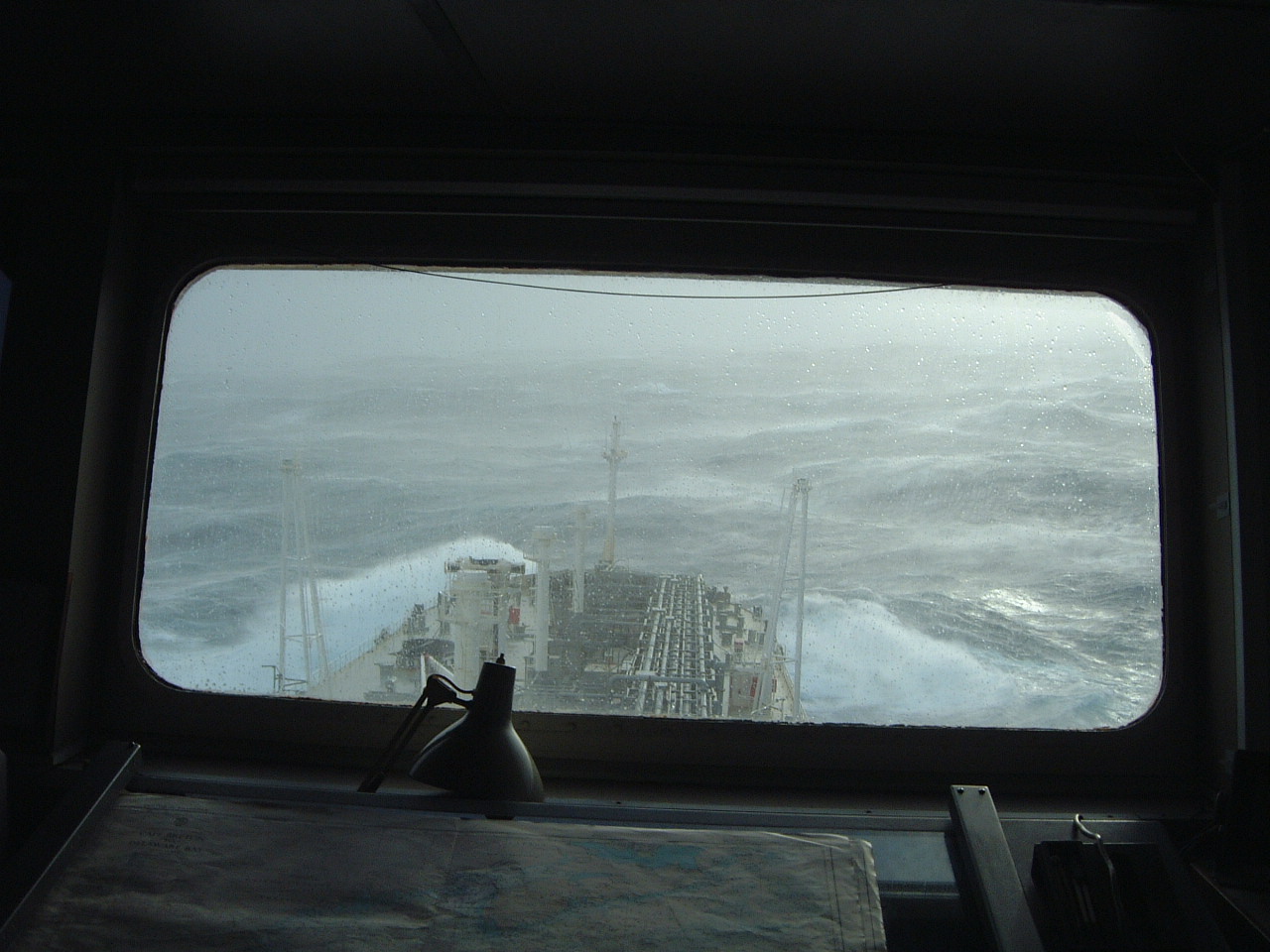 A North Atlantic storm from the Bridge window.
---
What do you learn in Nautical Science?
Along with a good understanding of general studies such as math, physics, chemistry, computers, electrotechnology and communication skills, a person in Nautical Science learns about:
Navigation (Chartwork) - use nautical charts, publications and associated tools to determine the ship's position
Astronavigation - use a sextant and celestial bodies to determine the ships position
Magnetism - understand how magnetic fields affect a ship's magnetic compass and to correct for deviation
Electronic Navigation - use Global Positioning System, Loran 'C', radars, and other electronic equipment to determine the ship's position
Navigation (Safety) - the Collision Regulations (Rules-of-the-Road for ships) and their application
Naval Architecture - how ships are built and their characteristics of construction
Marine Engineering - how the ship's engines, steering and other machinery systems work
Meteorology - how to read the weather and make observations
Oceanology - the make up of the oceans and about currents and tides
Oceanography - how bodies of water are surveyed and the data made into charts
Stability - how to calculate the ship's stability to keep the ship upright and prevent hull damage (loading/discharging cargo)
Seamanship - how to tie knots, rig stages, paint and chip, splice rope, and learn the nautical terminology
Ship Operations - how to handle a ship (maneuvering, tie up/let go, and anchoring)
Business & Organizational Management - the ship's business and administration (paperwork)
Personnel/Human Resource Management - how to motivate people to work safely and efficiently for you
Communications - use GMDSS equipment, satellite communications, VHF/MF/HF radio, Morse code and flags and signals
Simulated Electronic Navigation (SEN) - using electronic navigation equipment in a blind pilotage simulator
Marine Emergency Duties (MED) - fire fighting, launching lifeboats/life rafts, and survival at sea
Tanker Safety - learn the safe procedures undertaken aboard a petroleum tanker
There is a lot to learn in Nautical Science, but take heart, it is all very interesting and can be assimilated and comprehended over time. And no matter how long you serve at sea there is always something more to learn.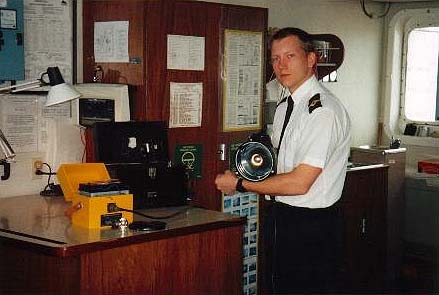 Me (as a new Third Officer) on the bridge with an Aldis signal lamp (for sending Morse code).
---
Join the Merchant Marine and see the world!
This is truly the world's most international occupation. You are exposed to so many different languages, ways of doing things, climates, plants, animals, food, weather that I couldn't possibly list them all. If you have an open mind you will gain a greater knowledge and experience then anything you could learn in school.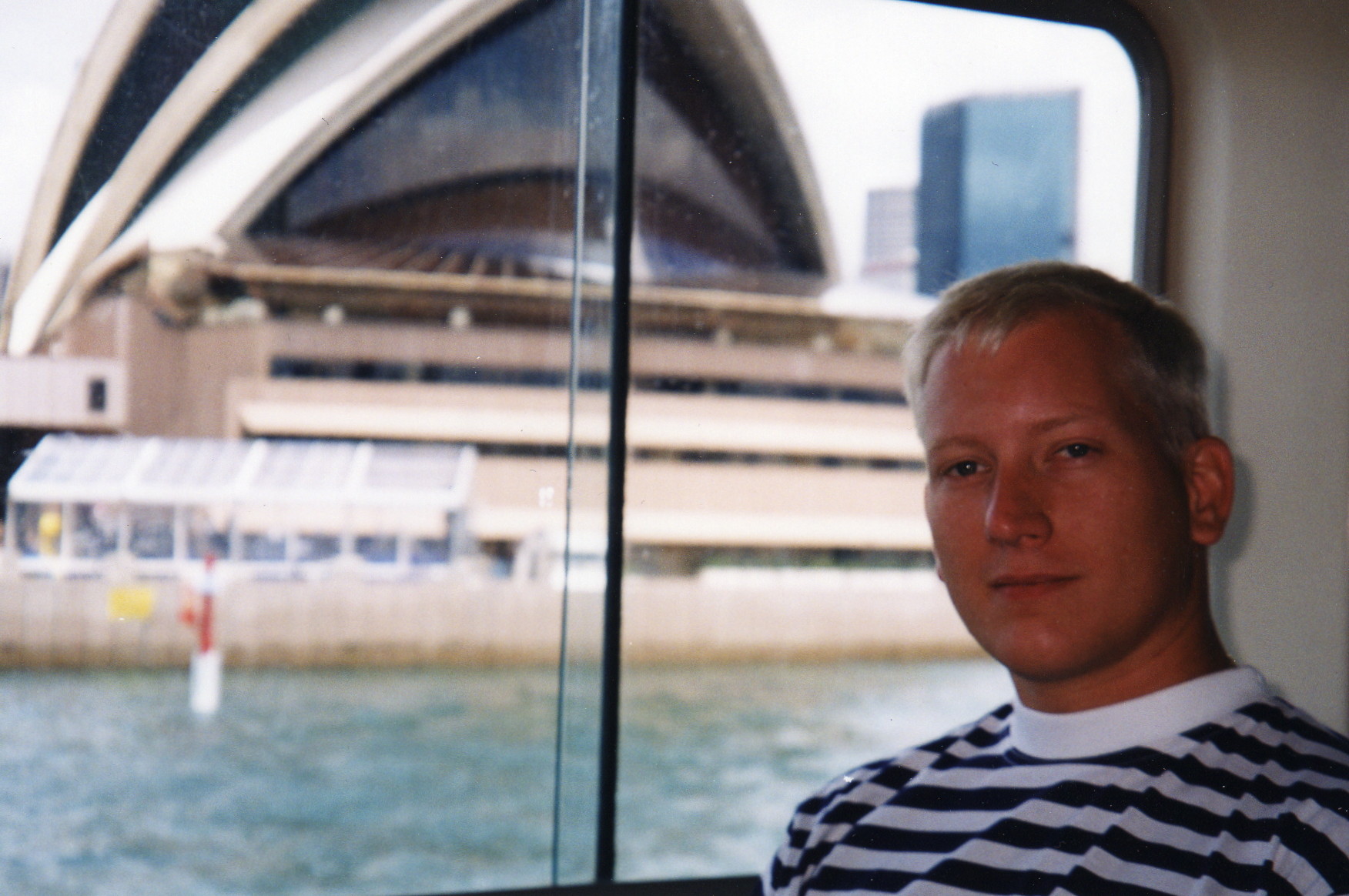 I picture of me in Australia on shore leave to see the sights.
You may have a chance to visit some of the more interesting and remote places in the world not easily accessed by the average person. Places that you would never have considered visiting before will become part of your life. Best of all, your paid to travel to these far off continents, meet the many different nationalities, and try their exotic foods.
I have been to places like Greenland, Norway, Denmark, Belgium, Holland, Germany, Malta, United Kingdom, United States, Mexico, the Caribbean, South Africa, Egypt, Morroco, Nigeria, Qatar, Iran, United Arab Emerites, Saudi Arabia, Malaysia, Singapore, Thailand, the Phillipines, Hong Kong, Korea, Japan, Australia and of course all over Canada. I look forward to seeing many more countries as my career progresses.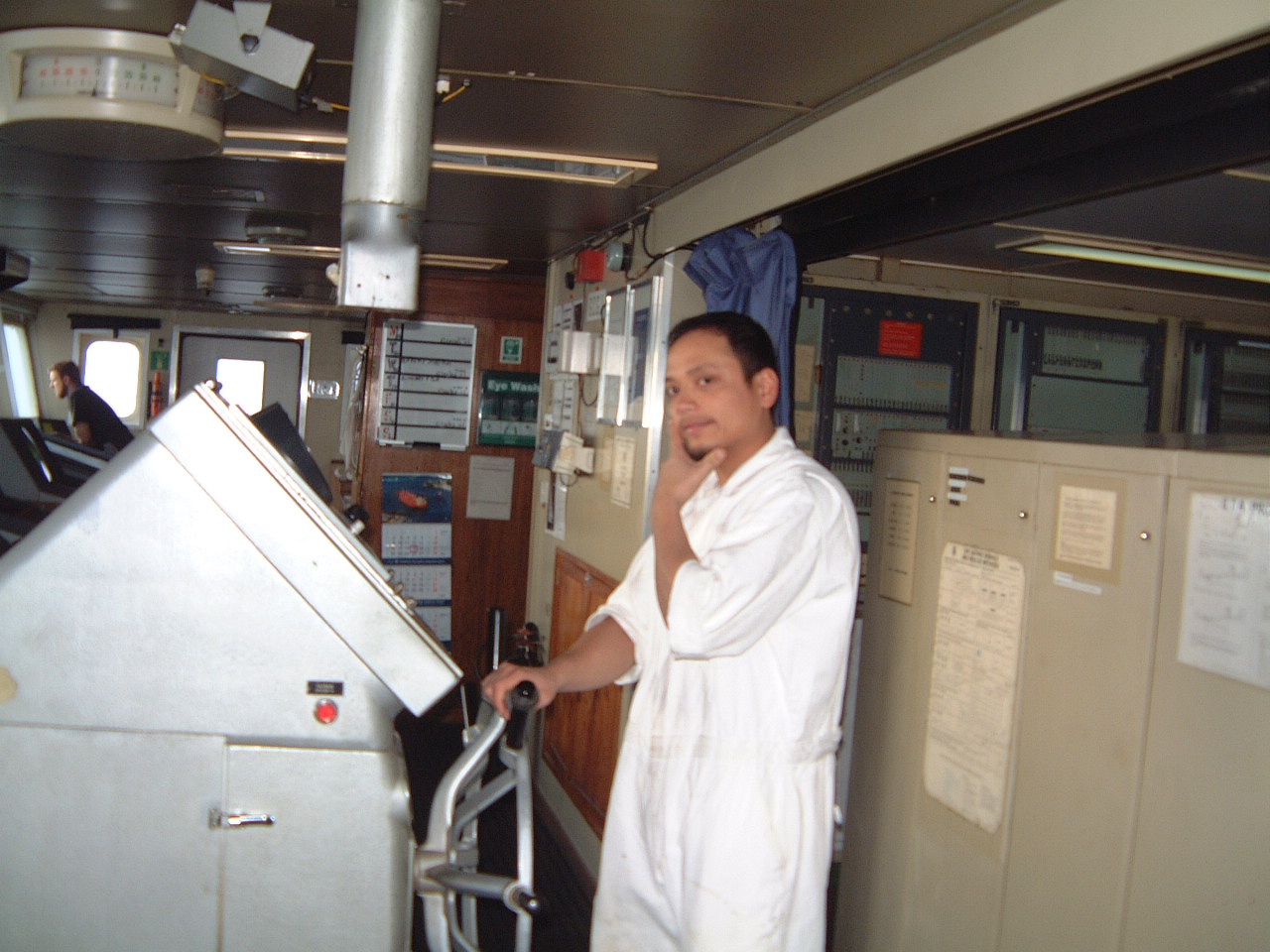 The Filipino helmsman deciding if he is going to listen to my orders.
English deck cadet in the background making himself useful as a lookout.
People from every part of the world and of every race, colour and creed go to sea. Men, women and teens find employment on the high seas. A ship's crew could have as many as ten different nationalities working on board. I personally have worked with Norwegian, Australian, American, British, Irish, Croatian, Greek, Pakistani, Indian, French (Canadian), Filipino, Nigerian, South African, and Barbadian officers or crew. I have friends and people I know all over the world (so when I go on vacation I usually have somebody to visit with).
---
How to become an Officer in the Merchant Marine.
Like most careers these days it is necessary to get a good education specific to the field. For example, in Canada, the best way to become a deck officer in the Canadian Merchant Marine is to enroll in a four year cadet programme at one of the marine training institutes. This requires going to school for three years and to sea for one year as a deck cadet. If interested you should contact a marine training institution near you for specific information on the programs they offer.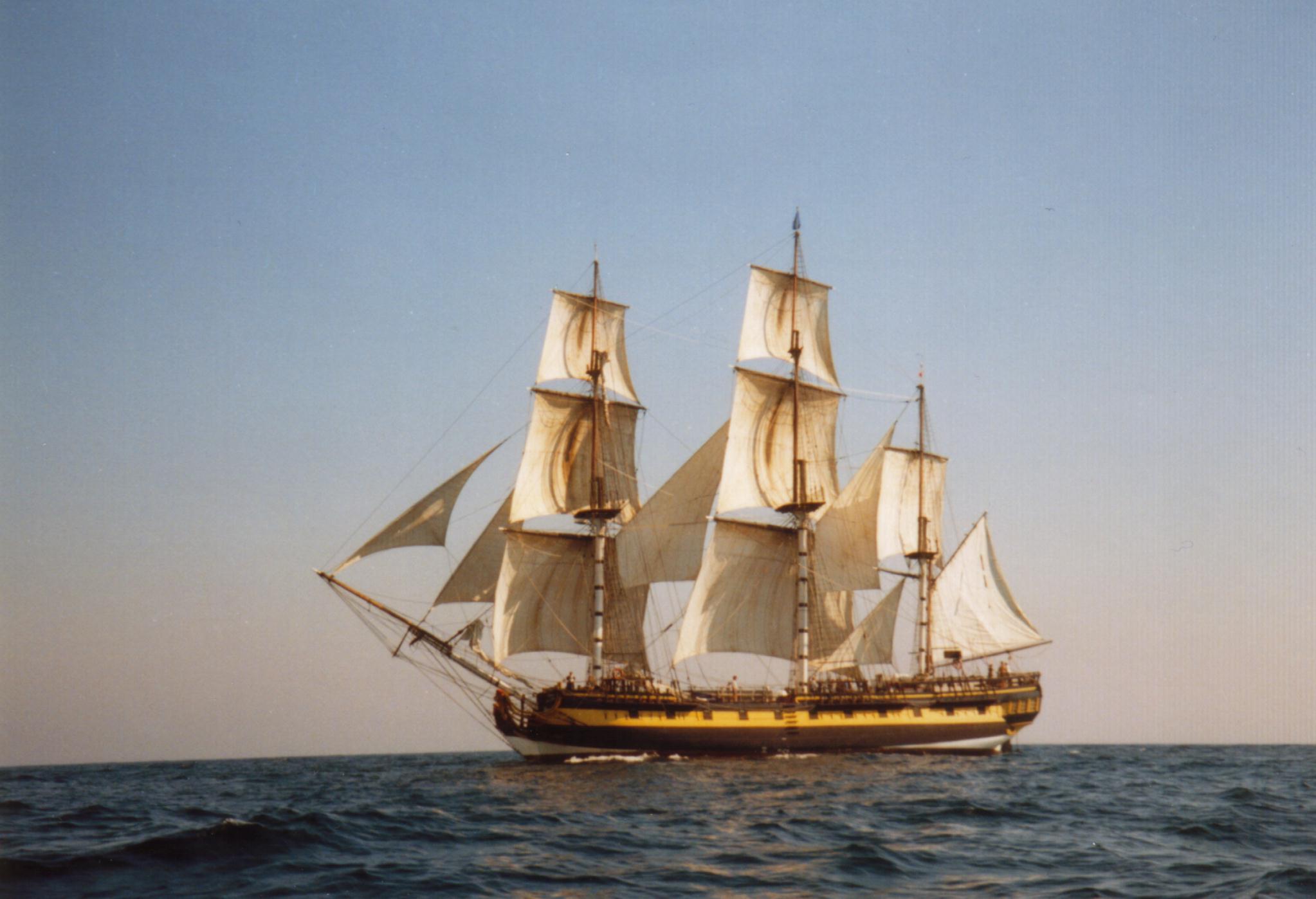 The Tallship Rose (one of the ship's I worked on as a sailing trainer) off the U.S. east coast in 1995.
You can do a cadetship at the Fisheries and Marine Institute of Memorial University of Newfoundland (Marine Institute). I graduated in 1995 with a Diploma of Technology in Nautical Science from this very place. The Marine Institute campus is located in St. John's, Newfoundland, Canada. I also attended the British Columbia Institute of Technology's Marine Campus in North Vancouver for my Master's Licence, receiving an Advanced Diploma in 2003, and in 2006 I completed my Bachelor of Maritime Studies Degree at Memorial University of Newfoundland.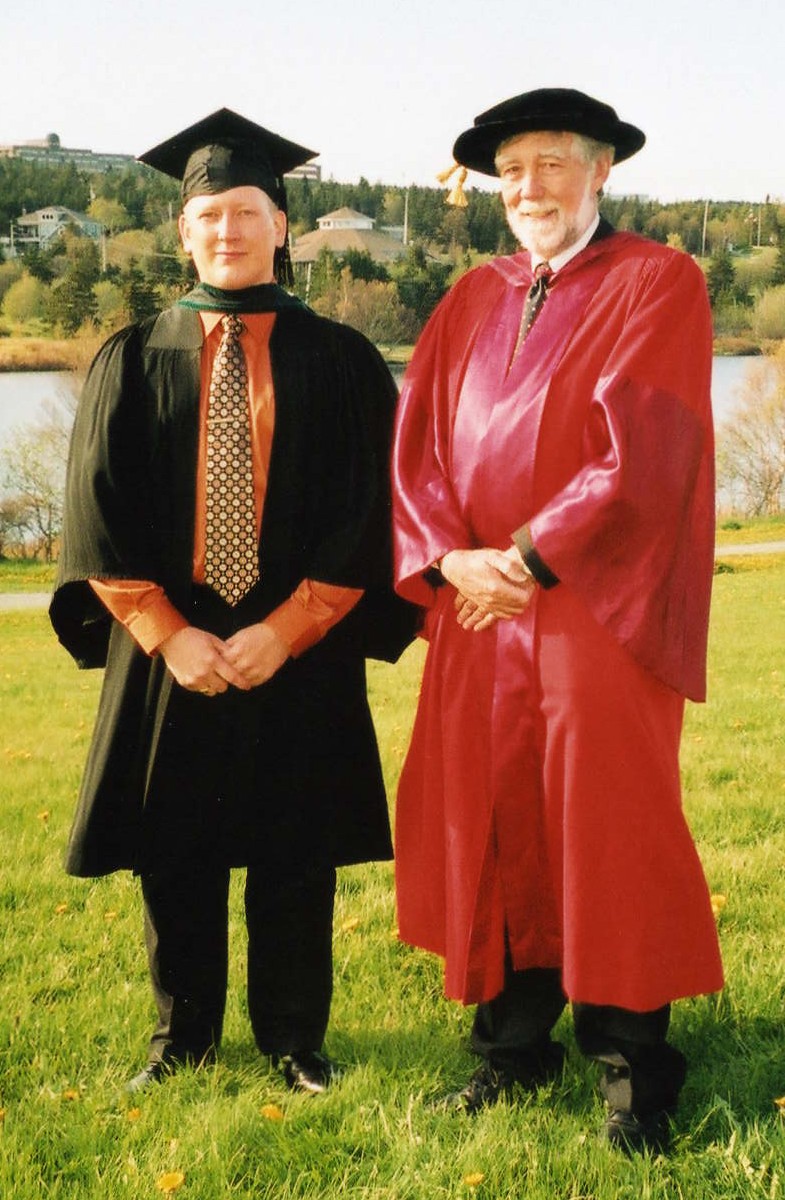 The day I received my Bachelor of Maritime Studies Degree from Dr. Peter Fisher (standing on right).
There are other schools offering similar programs as the Marine Institute and they can be found in most maritime nations. You can do a quick search by clicking here to find them.
You also need to consult your own government about merchant marine licencing requirements for the country in which you reside. Each nation has its own regulations governing merchant marine licencing however most comply with the International Maritime Organization's requirements under STCW 95. The convention establishes an international standard for seafarer training and sea time. Things such as eyesight, medical/physical fitness, specific training courses, education for ships officers and crew are governed by each sovereign country. You need to find out if your eye sight and medical fitness as well as educational background are sufficient for the training program you wish to enroll in. There is no point in doing the training if you can not meet the minimum medical requirements for the licence! In Canada, you need to pass a seafarer's medical from a Transport Canada recognized doctor and an eyesight test (for acuity and colour blindness). Upon graduation from a cadet program (and if you pass all your Transport Canada exams) you also sit an oral examination in front of a Transport Canada marine examiner who determines if you are competent to hold a Canadian marine watchkeeping certificate. For the various regulations and requirements click on Marine Certification Regulations.
It is possible to obtain higher degrees of education in nautical science and the maritime field. You can start with a diploma from a technical school or a bachelor degree from a university. Later you can move up to a Masters degree in Marine Management, Ship Transportation or other such similar programs. Later still you could get a doctorate if you wanted to (become a Doctor Captain!). Now that I have my Bachelor's degree I could get a Master in Marine Management degree at Dalhousie University in Halifax, Nova Scotia or perhaps a Master of Business Administration (Maritime and Logistics Management) degree at the Australian Maritime College in Tasmania.
The very first thing you should do is find out if you actually like working on ships and going to sea. Try and find a program or group that will let you go aboard a ship and learn some of the elementary skills of seamanship and navigation. If you are young enough you could join Sea Cadets, Sea Scouts or enroll in a Sail Training program. For older persons, you could go on a sail training excursion, join groups like the Canadian Power Squadron or find a friend who owns a boat. This will give you a feel for the job and prevent you from starting something that may not actually suit you.
If you have any questions about Nautical Science in general or in the Canadian Merchant Marine you can e-mail me from my main page.
Best of Luck!
---
To view pictures of some of the ships and vessels I have been on, please go to ME AND MY SHIPS.
---
Last Updated: 15 October 2008